Colleen Monn, PsyD
Clinical Psychologist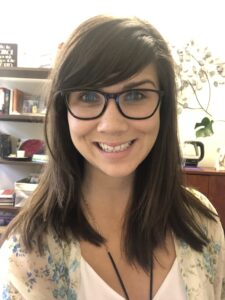 Over the past eight years I have enjoyed working with children, adolescents, and adults in outpatient mental health and university counseling centers, as well as therapeutic day school settings. I received a B.S. in Psychology from Indiana University in Bloomington, and earned a doctorate in clinical psychology from Adler University in Chicago. I completed my APA accredited internship and postdoctoral residency at James Madison University in Harrisonburg, Virginia. I am currently licensed to practice as a clinical psychologist in Ohio and Virginia.
My clinical experiences have spanned multiple modalities, including brief and long-term individual therapy, structured and process group therapies, evidence-based treatment programs for anxiety and perfectionism, parent skills training, outreach, and crisis intervention and response. Since joining Trysa Shulman & Associates I have also run both teen and young adult DBT groups.
While I am trained as a generalist, common concerns that I work with include sexual trauma histories, developmental traumas, grief and bereavement, relational concerns/interpersonal functioning, emotion instability, identity development, self-esteem, anxiety, depression, adolescence, emerging adulthood and women's issues.
I operate from an interpersonal lens in therapy and incorporate DBT and mindfulness-based interventions. Recognizing that there is "one-size-fits-all" approach to therapy, I adjust based on the unique needs of each individual with whom I have the privilege to work.